Wendy Hough is a Canadian-born artist with a degree from the University of British Columbia. Wendy's practice spans a range from large scale installations to more intimate drawings and sculptures. She creates artwork for private and public installation, both permanent and temporary. Her work has been exhibited in the United States and Canada with significant local exhibitions including the Kala Art Institute in Berkeley, and Hosfelt Gallery in San Francisco. Her work has also been featured in the Viewing Program at the Drawing Center in New York City. Wendy's work is in private collections in California where she currently resides.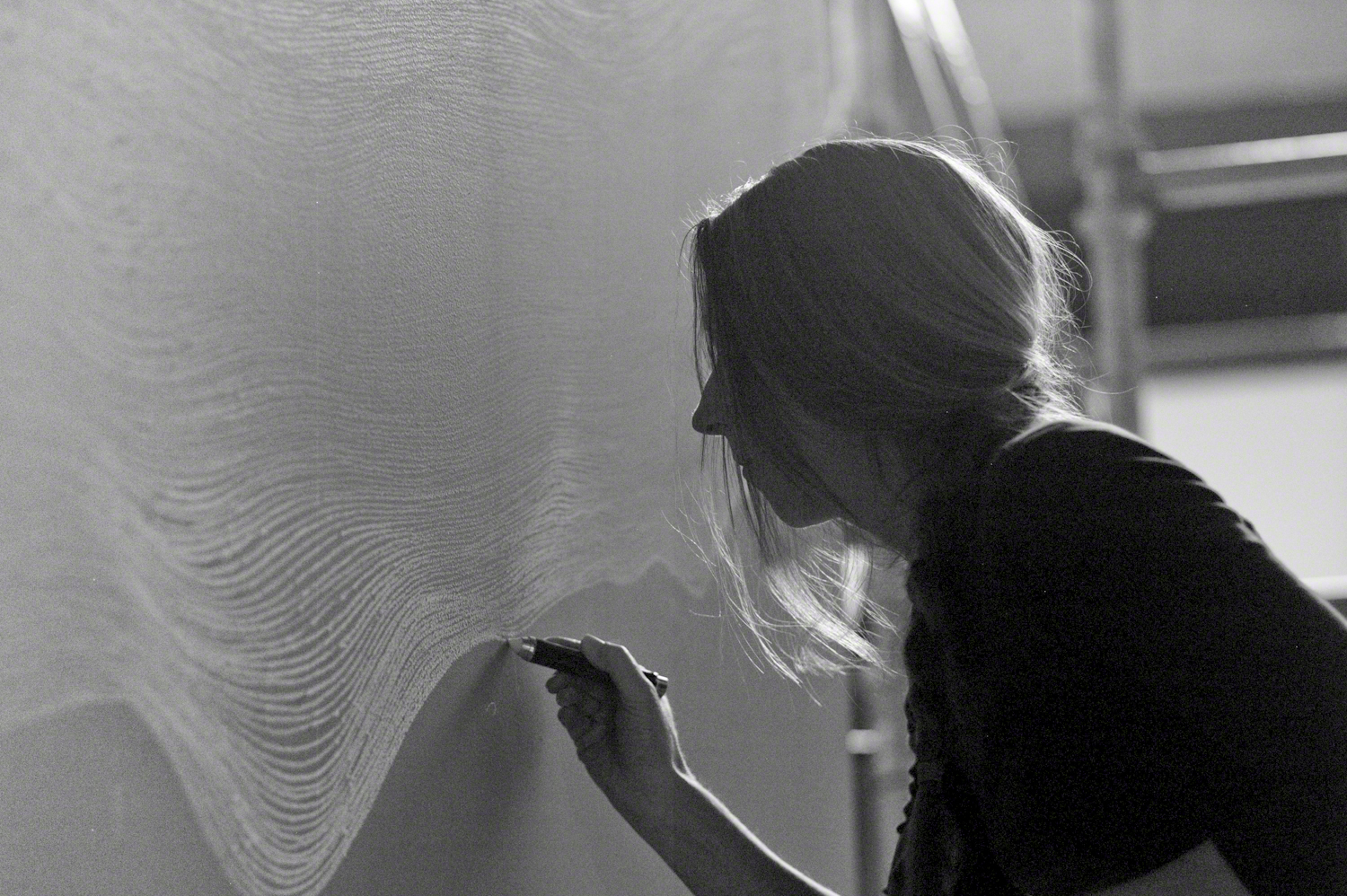 I believe drawing is the most expressive of practices. The immediacy of drawing is felt both as I explore an idea and by the viewer beholding a finished work. When drawing, I almost always bring back the foundation of a piece to its surface. Revealing these lines reveals the thought, feeling, and flow, that are my reflective state while creating a work. I have an obsession with detail yet often aim for a simplicity of form that can create and hold an edge between perception and abstraction. In the temporary Wall Drawings, using fragile materials allows me to explore the ephemeral. For someone witnessing the accumulation of marks there is anticipation and realization but it is fleeting. Erasing the work creates marks all the same and in a sense the drawing is still being created even as it is erased. The permanent Wall Drawings hold a moment in suspension and what is ephemeral is perception.


Selected Exhibitions
Group Hang, The Lab, San Francisco, CA, 19 August – 16 September, 2017
Installation progress on Instagram

Permanent installation at Facebook Headquarters, Menlo Park, CA, 27 March–19 June 2017.


Wall Drawing – Wendy Hough, Residency/Solo exhibition, Open Space Arts Society, Victoria, BC, Canada, April–June 2013.
Link to Exhibition Time Lapse

Blurring the Line, Kala Gallery, Berkeley, CA, October–November 2010 Sketches, Other Gallery, The Banff Centre, Banff, AB, Canada, September 2010

Wall Drawing, Hosfelt Gallery, San Francisco, CA, March–April 2010

Mono no aware — drawings, Yosemite Place public Open Studio viewing, San Francisco, CA, 2009

Delineations — Wire Works, Yosemite Place Gallery, San Francisco, CA, November 2007


Artist Residencies

Artist in Residence at Facebook Headquarters, Menlo Park, CA 27 March – 19 June 2017.
Installation progress was shared on Instagram

Open Space Arts Society. Victoria, BC, Canada, April–May 2013

The Venice Printmaking Studio. Venice, Italy, June 2011

The Banff Centre. Banff, AB, Canada, August–September 2010


Reviews, Publications, & Resources

Open Form: Facebook Artists in Residence 2012–2017,
essay by Natasha Boas
September 2017

Exhibition Catalogue, Wall Drawing – Wendy Hough, Open Space Arts Society
essays by Toby Lawrence and Helen Marzolf
ISBN 978–1–895532–40–1
September 2013

"Uncategorical Imperatives at Kala Gallery" by DeWitt Cheng
East Bay Express
24 November 2010

"Wall Drawing" webblog post by Meredith Tromble
stretcher.org
21 March 2010

'Wall Drawing" at Hosfelt Gallery review
San Francisco Chronicle, 9 April 2010

ArtSlant profile
The Drawing Center New York
Hosfelt Gallery weblog



Wendy creates artworks and installations for private or public commissions.